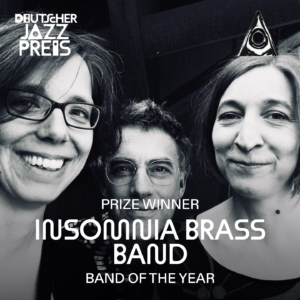 Anke Lucks – trombone
Almut Schlichting – baritone saxophone
Christian Marien – drums
"…it's great fun, you want to dance pogo to it. More of this please!"
Hans-Jürgen Schaal, Jazzthetik

"Calypsomanic vitality in XXL"
Rigobert Dittmann, Bad Alchemy
Lucks, Schlichting und Marien are a miniature brass band, juggling shifting rolls, toggling between rhythm and melody as they traverse a beguiling landscape of free jazz, funk, punk rock, and New Orleans brass band traditions. Collectively, they have been spending an increasing amount of time pushing and stretching their original tunes with a mixture of improvisational brio and body-moving funk.
Since 2017, the trio has been on the road with numerous concerts in jazz clubs and at festivals, has received several grants from the Musikfonds and Berlin Senate, and has released two CDs on Tiger Moon Records.
In 2023, the Insomnia Brass Band was awarded the German Jazz Prize as "Band of the Year".
__________________________________________________________________________________________________________







Concerts 2023
08.01.2023 Berlin Industriesalon Schöneweide Tiger Moon Records Day
26.-28.01.2023 Tórshavn (Faröer Inseln) Vertrarjazz Festival
(mit Reisekostenunterstützung vom Goethe Institut)
10.02.2023 Schorndorf Manufaktur
11.03.2023 Nordhausen Jazzclub
11.05.2023 Lübeck CVJM
12.05.2023 Braunschweig Roter Saal
14.05.2023 Berlin Satellit (& Martial Frenzel)
11.06.2023 Wangelin
30.06.2023 Dortmund domicil
02.07.2023 Reinstorf One World Ostheide
06.07.2023 Nürnberg Tante Betty Bar
07.07.2023 Wien (Österreich) Kultursommer
18.08.2023 Ísafjörður (Island) Edinborgarhúsið
19.08.2023 Bíldudalur (Island) Skrímslasetrið
22.& 24.08.2023 Reykjavik (Island) Jazz Festival
(Island-Tour mit Reisekostenunterstützung vom Goethe Institut und vom Senat Berlin)
25. & 26.08. 2023 ZomerJazzFiets Festival Groningen (Niederlande)
18.-21.9.2023 Bad Kötzting Bahnhof (Arbeitsphase & Konzert)
22.09.2023 Wels (Österreich) Schl8hof
23.09.2023 St Johann (Österreich) MUKU
30.09.2023 Leipzig Villa Ida
13.10.2023 Darmstadt Jazzinstitut
14.10.2023 Burgthann Jazz in der Burg
11.11.2023 Villingen Jazzclub
Concert Archive
more
__________________________________________________________________________________________________________

Concert Videos
more on our  Youtube-Kanal
__________________________________________________________________________________________________________

CDs & Reviews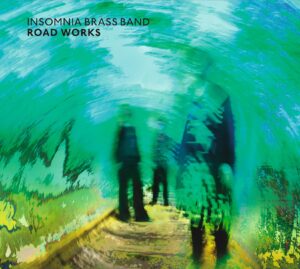 Insomnia Brass Band – Road Works
Tiger Moon Records TMR 011 (Release Oktober 2022)
supported by the Berlin Senate Department for Culture and Europe
CD Reviews "Road Works": more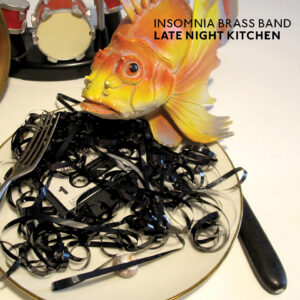 Insomnia Brass Band – Late Night Kitchen
Tiger Moon Records TMR 009 (Release November 2022)
supported by the Berlin Senate Department for Culture and Europe
CD Reviews "Late Night Kitchen": more
More about the CDs & our label: www.tigermoonrecords.com
Our bandcamp page: www.tigermoonrecords.bandcamp.com
__________________________________________________________________________________________________________

Contact & Booking & Imprint:
Almut Schlichting
0049-179-7541861
almutschlichting@gmx.de
Photos: Oliver Potratz (Band Portrait), Paweł Wyszomirski (Concert Photos Gdansk Jazz Jantar Festival)
Downloads
Bandfotos (© Oliver Potratz)
Konzertfoto (© Rolf Schöllkopf)
Bandfotos (© Alexander Beierbach)
CD TMR 011
Cover "Road Works"
CD TMR 009
Cover "Late Night Kitchen"